Let me introduce you to my Patronus…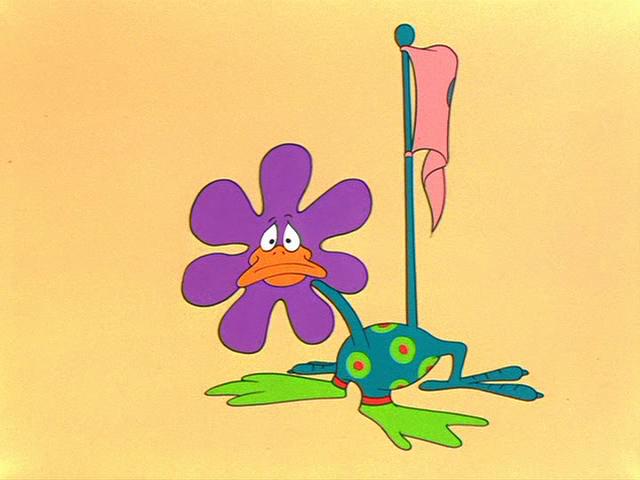 No doubt you are familiar with the Warner Brothers Merrie Melodies animated classic "Duck Amuck" (1953), written by Michael Maltese, voiced by Mel Blanc, scored by Carl Stalling, layed out by Maurice Noble (in some of his finest work this side of the 24 1/2 century) and directed by one of my primary (also prime and primal) artistic influences, Chuck Jones. (This post was very nearly titled "…dearest Chuck…" (Macbeth, III ii) instead, but Bottom won the toss.)
If you haven't ever seen it, a) I envy the opportunity you're about to get (though never miss a chance to see it on the big screen) and b) here it is, not in the best visual quality but still magical.
I'll wait.
Now, as I've mentioned one hundred times in self-aggrandizing plug after plug, I'm playing Guildenstern next week in this stellar production of Stoppard's classic. And what I'm going to suggest to you now, before I get buried in tech for several days and have to lay off the blog while I mumble my four thousand lines to myself for a couple of hours a day, is that the two aforementioned works are as spiritually analogous to each other as the latter is textually with Hamlet.
If you aren't familiar with Rosencrantz & Guildenstern Are Dead, a) I envy the opportunity you're about to get to see it on stage (if you're within driving distance to Louisville, directions are at the link above – January 3-8, curtain times vary) and b) you could always read it, too.
I'll wait.
I should note here that I've always been of the opinion that comedy, especially of the goofier sort, is always a few steps ahead of the avant garde. Beckett is a wonder and a favorite, but Spike Milligan, Peter Sellers, & Harry Secombe were pop stars doing the same thing on radio first, not to mention Laurel & Hardy. The following falls into that line of thought.
Now:
Rosencrantz & Guildenstern = Daffy split;
The Player = The Pencil/Brush;
Shakespeare = Bugs;
Chuck Jones, et al. = Stoppard.
Demolish.
Now to a few tedious work days of tech, then the relative sport of the playing holidays of performance. And then, as Silence drunkenly sang, "we shall
doe nothing but eate,
and make good cheere,
and praise heaven for the merrie yeere" – Happy 2017, y'all!