A year ago today I marched in a parade, chilly in the yellow stockings that named this blog, vitals girded by some sort of lycra and velcro device that allowed my abdominal muscles, almost precisely one month after surgery, some rest for a full day of performing, first at Shakespeare's New Place (at that point not yet reopened) for the BBC and later at his birthplace, and then walking about and chatting at a shindig here and a fete there. There was a nap scheduled in there somewhere.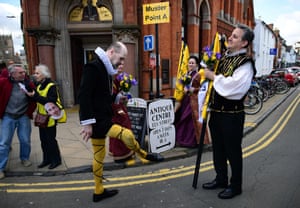 It was exhilarating, partially because my health had very recently been such that I didn't know if I'd be able to make the trip, or do much of anything for some time.
A couple of days before, the whole Kentucky Shakespeare contingent visiting Stratford enjoyed a trip to the vaults, during which time the kind women who mind the delicate antiquities told us to "go ahead and touch" the register of the Church of the Holy Trinity – the animal-skin vellum was going to last another 500 years and our grimy mitts (daintily and tenderly applied, I assure you) weren't going to do it any particular harm. There was the original registry of Shakespeare's death, which today seems to be the definite anniversary of.
Earlier (obviously) in the book there was a copy of the registry of his christening, as the whole book had been recopied during Elizabeth's reign at some time after Shakespeare's birth.
As is widely known, the whole birthday thing is a guess – it's very likely that Shakespeare died on his 52nd birthday, which happens to be the saint's day of George, dragon-slayer and patron of England, but we may have been a day off in one or another direction. But the symmetry is appealing. And easier to remember. And if the ancient honchos of the Catholic Church were willing to just throw Jesus's birthday at the most convenient and useful spot on the calendar, I suppose the placement of these things aren't all that important.
I am a fervent resister of any attempts to attach Shakespeare's work to his biography. If he was Prospero or Hamlet, he was also Iago and Paulina and Lady M. and the guard who tries to speak up for Gloucester in Lear. And we only speculate that the sonnets tell us anything particularly private, or that the wording of his will does so.
But I'm willing to indulge in the fun Time-Life Mysteries of the Unknown fact that in Julius Caesar, Cassius makes note (see title of post) on the eve of battle that it is his birthday and, to paraphrase via Howlin' Wolf, "I ain't superstitious but a black cat just crossed my trail". And the audience doesn't have to be superstitious to be aware that we've just started Act V of a tragedy, so bodies are going to start dropping soon, Cassius's among them.
Now clearly Shakespeare did not, in a play written seventeen or so years before his death, have foreknowledge that he'd go on his birthday, unless he went out and did something dumb every twenty-third of April to tempt Fate and Fate just didn't win the hand until 1616. But the symmetry is appealing.
This year I have the good fortune to celebrate Shakespeare Day from the comfort of our home, healthy enough to get out and do some of the yardwork I have so despised since I was about twelve. I'll work on the lines my aging, lint-filled brain is trying to learn for a show that opens in about five weeks and rehearsals for which start in eight days. I'll sit down with this novel I'm trying to finish before our summer gets crazy, or with one of the New Yorkers I'm trying to catch up on for the same reason. I might watch some Buster Keaton, who made his film debut on April 23, or listen to some Mingus, another birthday boy.
But nerds though we be in my household, we don't do much in the way of partying for Shakespeare's birthday. This date also marks the day my wife lost her father back at the beginning of this century, and while time has gone by, it's never going to be sunny and springy.
Her father's name was George and the dragon won that round, and though we haven't talked about it much in these terms, I don't know whether it would make it easier or more difficult to spend St. George's Day contemplating a stack of plays almost all of which are preoccupied with thoughts on the father/daughter relationship or that pain of loss which shadows even the silliest of the comedies.
But the symmetry is appealing.